Executive Program
We are now enduring a tremendous one-to-two year shock to our healthcare system that will cause enormous, permanent change. Deep shifts are coming in consumer behavior, employer and payer dynamics, government spending, and technology that will ripple through the existing landscape. For large regional health systems, this is a moment of real peril. But, also an opportunity for those who can clearly see the future choose to act on brave, bold changes.
Our content will be dedicated to the tectonic, permanent changes wrought by the COVID pandemic, and the bold, strategic changes we want to drive in our organizations.
2021 Speakers To Be Announced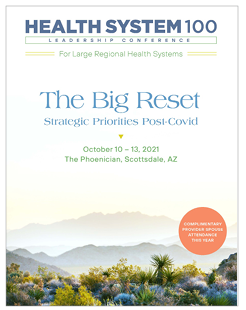 Sunday, October 10, 2021
Recreation
4x4 Jeep Tour
Ride through the pristine Sonoran Desert with a cowboy guide, and witness some of the best panoramic views in Arizona. Then take a nature hike and learn how the Native Americans used the ecology of the desert to survive.
Gateway Trailhead Hike
With vibrant wildflowers, towering cacti and lush trees, you'll get an up-close look at what makes the Sonoran Desert unlike any other landscape in the world!
Southwestern Cooking Demonstration
Make a cocktail & appetizers inspired by the simple, bold flavors of Southwestern cuisine.
Receptions & Meals
Welcome Reception
Monday, October 11, 2021
Receptions & Meals
Breakfast
General Session
Health System Strategy Post COVID: Bold Changes Ahead
Big thinkers in healthcare weigh in on essential strategic moves for large regional health systems in the wake of the pandemic.
General Session
The Biden Factor - Progressive Politics and the Impact on Health Systems
We'll predict the impact of the Biden Administration on Medicare expansion, CMMI Initiatives, home care, drug pricing and regulations.
General Session
Mega M&A Deals: What they Mean for the Future of Healthcare
We'll examine the biggest M&A deals - such as HCA/Brookdale, Advocate/Senior Helpers and ProMedica/HCR - to understand how these tectonic shifts are informing the future of healthcare.
General Session
The Innovation 'Right Stuff'- Cultivating a Culture of Change
Health systems are coming out of Covid with a need to change their company's cultural DNA – starting with leadership and governance – to be more agile, adaptable and innovative.
General Session
Strategic Cost Control: A New Era in Service Line Rationalization
Cost control is king, which could mean pulling back on the "all things to all people" philosophy and ushering in an era of service consolidation and Centers of Excellence.
Speed Meetings
These rapid-format meetings connect providers with innovative solution partners. You will gain some fresh insights, and perhaps find another business partner.
Receptions & Meals
Country Western Dinner
Tuesday, October 12, 2021
Receptions & Meals
Breakfast
Keynote
Speaker to be Announced
General Session
Hospitals Without Walls
Heads in beds is dead, but can hospitals reimagine care delivery outside their four walls? We'll address the accelerating trend of outpatient care and unpack the white-hot surge in Hospital at Home.
General Session
Bold Case Studies in Hospital Reinvention
An in-depth look at bold strategies that are driving impressive results: converting to a specialized hospital; going deep into virtual; partnering vs. owning.
General Session
The New Disruptors: How Main St., Wall St. and Silicon Valley are Altering the Future of Care Delivery
Visionary insights on large-scale healthcare disruptors with points of view from private equity, payers, big tech, and retail.
Recreation
Afternoon at the Pool
Receptions & Meals
Southwest Shindig
Wednesday, October 13, 2021
Receptions & Meals
Breakfast
General Session
Five Radical Ways Innovative Technology is Revolutionizing HealthcareHow big, forward-looking tech and scientific innovations – like regenerative medicine, mRNA, genome mapping and predictive AI – are profoundly changing care delivery.